Time for a Digital Work Order Rack?
As we have been fine-tuning the digital inspection and worksheet for technicians and service advisors, we noticed an unexpected problem and thus opportunity. Shop owners and service managers as well as advisors spend an unreasonably high amount of time on managing vehicles and dispatching technicians. Working back and forth between counter and back shop is the tool to control the workflow in the shop.
There doesn't seem to be a shop management software out there, which provides adequate support so service advisors can stay on top of these mission critical attributes of the business. The line item oriented user interface of the Work in Progress screen seems not enough. How can we tell? We don't know of any shop owner who got rid of the paper rack in his or her shop. So running a shop and making quick decisions seems too risky with the software tools available.
But wouldn't it be great to see exactly where each vehicle is in the process and make sure all techs are assigned the work they need for the day? And if something unexpected happens, making quick decisions based on reliable data to adjust immediately seems key.
As we integrate with a significant variety of SMS in real time, we saw an opportunity to help service advisors, technicians and last but not least motorist with reliable decision making. This article illustrates the first phase of our implementation, which has been proven with pilot shops. Lets check out the workflow page first (click on image for details).

Can you see how all vehicles are easily identified? Clicking on the repair order reveals the job, parts and customer request details.
Now lets press the "Tech" on the header to see the Technician View (click on image below for details).

Technician's total time budget, billed and performed hours, individual and total for the shop are easily spotted. Imagine running your SMS on one screen and this tool we dubbed "TechFlow" on a second screen as well as on the wall for the techs in the backshop. Can you see how paper, yelling, scribbling and lack of consistency is a piece of the past?
Check out the highlights of the Service Advisor Huddle below covering the Digital Work Order Rack.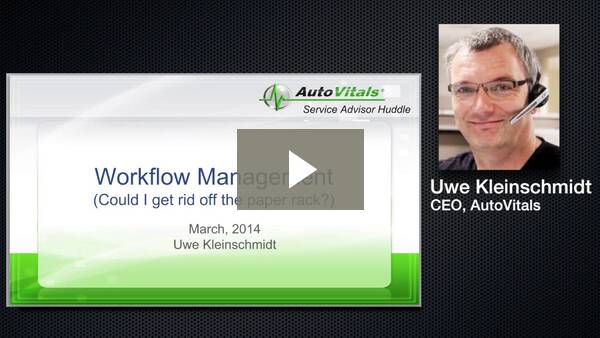 Latest posts by Uwe "Oova" Kleinschmidt
(see all)